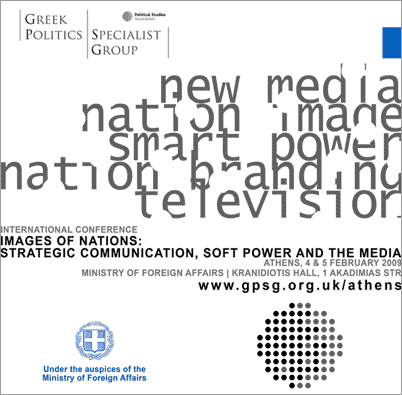 INTERNATIONAL CONFERENCE
4 – 5 February 2009
Ministry of Foreign Affairs, Kranidiotis Hall, 1 Akadimias St.
Athens, Greece
Organised by the Greek Politics Specialist Group under the auspices of the Ministry of Foreign Affairs, Greece.
Watch Video of Conference Highlights
Download the Conference Programme
Download the conference poster
This international conference brought together leading academics and practitioners in order to examine the construction and management of nations' images through such practices as media representation, public diplomacy, nation branding, soft power and strategic communications.
Organising Committee:
Dr. Athanassios N. Samaras, Conference Academic Convenor [ [email protected] ]
Achilleas Ioakimides, GPSG Advisory Committee [ [email protected] ]
Roman Gerodimos, GPSG Convenor [ [email protected] ]
Dr. Andrew N. Liaropoulos, GPSG Secretary [ [email protected] ]
Irini Polidorou, Project Manager [ [email protected] ]
Contact Details
Tel (GR): +30 (0) 6949 079175 
Tel (UK): +44 (0) 1202 965 105
Email: [email protected]
Conference Information
Buffet lunch and refreshments will be provided during the conference.
The conference languages are English and Greek. Simultaneous interpretation facilities will be available.
Wi-Fi access will be available in the conference hall.
Certificates of Attendance can be obtained from the reception desk throughout the two days of the conference. Identification (passport or ID card) may be required.
Programme & PowerPoint presentations
Keynote Speech 1: Prof. Philip Taylor
Professor Philip Taylor (University of Leeds, UK) will give the opening keynote speech, entitled "A Strategic Communications (Road) Map". – Presentation
Keynote Speech 2: Prof. Keith Dinnie
Panel 1: The Internet as a Tool of Foreign Policy and Public Diplomacy
Panel 3: The International Relations Approach: Images of Nations and "Soft Power"
Panel 5: The Institutional Approach: Policy Formulation in Greece
George Koumoutsakos, Spokesman of the Ministry of Foreign Affairs
Thomas Miller, Counsellor for Public Affairs, US Embassy in Athens
Vasily Gavrilov, Press Attache, Russian Embassy in Athens
Moderator: Werner Van Gent, President of the Foreign Press Association in Greece